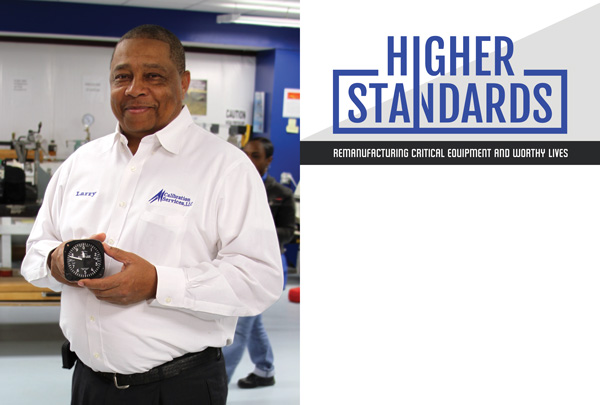 Remanufacturing critical equipment and worthy lives
Adapt. Adjust. Overcome.
Navy veteran Larry White is the owner of AA Calibration Services, LLC, an airline equipment remanufacturing and calibration business that specializes in altimeters, airspeed indicators, and vertical speed indicators. Since 2004, AA Calibration has continued to grow, and now makes its home in a 5,000-square-foot facility in Yazoo City, Mississippi, constructed from the ground up in 2010. White's is a story of successfully building a manufacturing business using his wits and his savings, one step at a time, with an attitude of self-sufficiency that is now embedded in the company's culture. Today the company supports White's family along with 18 employees and their families.
Larry White has a saying, "Adapt. Adjust. Overcome." It is a philosophy he puts into practice on all projects large and small. It is a way of living that he imparts to his employees and those who are working to become part of his team.
Lemons or Lemonade
People handle hardships differently. Many people view being laid off from their job as devastating. Others practice constant vigilance in seeking out opportunities. They seem to be able to navigate difficulties with grace, and even find advantage in their situations.
White was working for L-3 Vertex in 2004 in a dedicated calibration lab. When L-3 Vertex announced that they were downsizing, including closing the lab and eliminating White's position, he saw an opportunity. Upon hearing the news, rather than seeing defeat in his circumstance, White decided instead to make an offer to buy the equipment from the lab in order to start his own business. White's unconventional response paid off when L-3 Vertex accepted his offer. Two weeks later White had secured a 1,000-square-foot space, and AA Calibrations was born. His former employer became his first client.
After White and his wife, Dorothy, who serves as Chief Financial Officer, established AA Calibrations, they immediately began seeking advice on how to navigate the business startup waters. They were determined to take the right steps. White credits the Mississippi Development Authority with being particularly helpful, as well as Mississippi State Senator Horne, U. S. Congressman Thompson, and Henry Cote, former president of the Yazoo County Chamber of Commerce and former president/CEO of the Yazoo County Economic Development District. Over time AA Calibrations was able to establish statuses, certifications, and associations that would help them in their startup period, including the Historically Underutilized Business Zones (HUBZone) program, the 8(a) Business Development Program, the U.S. Department of Transportation's DBE (Disadvantaged Business Enterprise) program, the Mississippi Manufacturers Association (MMA), City of Jackson, and the Small Business Administration Service-Disabled Veteran-Owned Small Business program.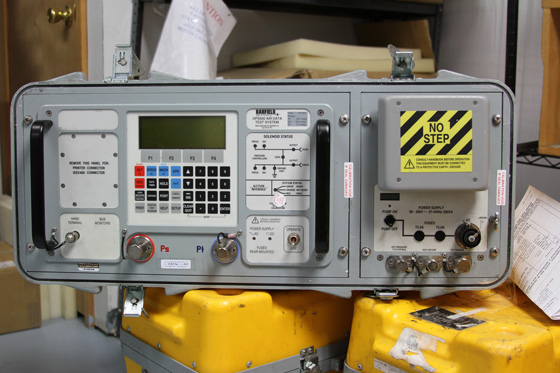 Startup capital was nearly impossible to come by. Says White, "It seems like the banks were only able to make loans if you already had capital. So we found ways to fund all of our startup ourselves." In fact, White has funded every business expansion with cash and savings. "We were able to get through the toughest times with the help of my military pension. It was tight, but we did it and are still doing it."
Today both Larry and his wife Dorothy draw paychecks.
Workforce Issue or Opportunity Issues
To meet the demands of their expanding business, White needed employees — skilled employees. Calibration is a precise business, and qualified technicians are extremely difficult to find, whatever your location.
In Yazoo City, there were no properly skilled employees to work as technicians in a calibration lab. What White did find were good people who dreamed of bettering their lives. Having a skilled job simply seemed unattainable for many people he came across. Says White, "We have a worker surplus, but a lack of skills."
White decided to meet the workforce challenge with education. He sought the aid of the WIN Job Center in Yazoo City, which funded an in-house on-the-job training (OJT) program where White personally oversaw the development of the skills he needed in people while they worked. Says White, "We brought in people who were eager for the opportunity to better themselves and work their way to a skilled and valuable position." White was not only developing skills, he was helping develop value and self-esteem in his new team.
The experience of giving a helping hand to deserving individuals struck a deep chord with White. He embarked on a new, parallel life mission. Says White, "There is nothing more rewarding than that feeling of giving someone a job — to help put their kids through school and pay the light bill. To help them earn an income for their family."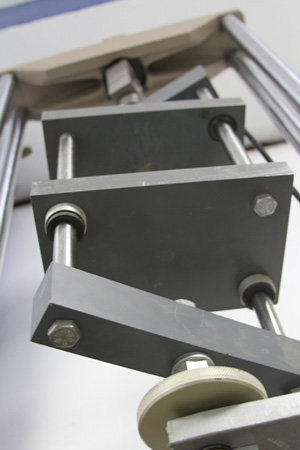 Raising the Bar, Again
While OJT was effective, there was only so much White could do by himself. He needed a way to train more employees more quickly, and help even more people in the process.
White reached out to Holmes Community College and was able to establish a workforce development certification program, Basic Electronics and Metrology Certification, with the help of Jackson State University engineering instructor Mitchell Belser. The result was a new level of empowerment for White and his protégés. Says White, "I sat in on classes with the students. We were able to help shape the content and curriculum of the class so that it had the right focus to enable graduates to have the practical knowledge to begin work in a calibration lab right out of school."
The Holmes program provides 121 hours of electronics and metrology coursework over a 30-week timeframe. One of the final assignments for students is to design and build their own functioning power supply, which demonstrates a working knowledge of all of the components.
There have been 16 graduates from the program to date, and all but four have gone on to work for AA Calibrations after graduation.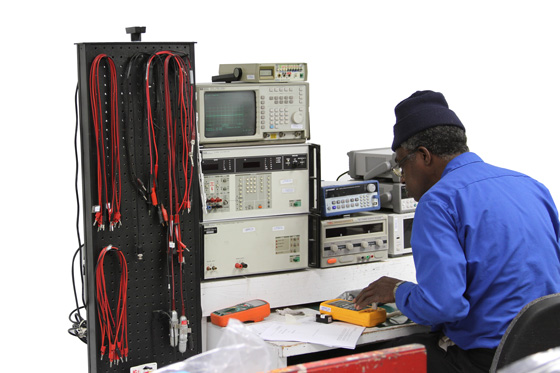 A Business Worth Building, Lives Worth Mentoring.
Larry White has learned many lessons and has many accomplishments he holds close to his heart. Says White, "One of the things I am most proud of is figuring out how to help local people get qualified so that I can then hire them. You see neighbors without jobs. You see people who need jobs but have to go to school. These people [at AA Calibrations] did it."
White is proud to have many of his OJT workers and Holmes Community College Basic Electronics and Metrology Certification graduates on staff. He is also proud of those who have moved on to other opportunities. Ironically, one of his employees joined L-3 Vertex, his former employer turned client. White felt proud that his training and education helped create that opportunity. Says White of another employee, "I have one employee who went through my OJT program and found inspiration. He recognized what education did for him. He moved to Atlanta to further his education and attend the Aviation and Maintenance Repair School, and got his Airframes and Powerplants (A & P) license and FCC certification. He came back to AA Calibration and now works as a senior metrology technician onsite in our Columbus Air Force Base office."
"Adapt. Adjust. Overcome." is the motto Larry White instills in all of his employees.
Navy veteran Larry White took a layoff and, with his wife, turned it into a growing business, an outreach program, a college certification program, and a path for under-educated people to develop skills and build careers to better their lives. And they did it all by themselves, from scratch, with personal savings. That is a story worth sharing.
Bryan Carter