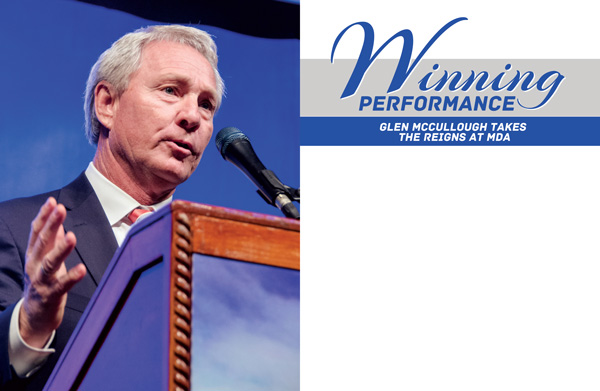 Glen McCullough, Jr., Takes the Reins at the Mississippi Development Authority
Imagine this scenario: You are nearing the place in life where many of your peers are considering retirement; you have had a successful and fulfilling career in both the public and private sectors; you are now happily working for yourself as a consultant, helping others with the knowledge you have gained over your career. Out of nowhere you receive a phone call from the governor of your home state with a unique and challenging job offer.
This is exactly what happened for Glenn McCullough, Jr., who was named as the executive director of the Mississippi Development Authority (MDA) on June 8, 2015. The last six months have been a whirlwind of learning, travel, and activity, but he's been well prepared for this new position by the course of his life.
The Life of a Man: Preparation for What Lies Ahead
Glenn McCullough, Jr., is a Mississippi native, and no matter where his life carried him, he was always proud to be from Mississippi. Says McCullough, "My wife Laura and I always considered ourselves lifelong Mississippians, even though we traveled and lived all around the country for various jobs through my career."
He attended public school in Tupelo before matriculating to Mississippi State University, where he earned a bachelor's degree in Agricultural Economics. After graduation, McCullough spent 20+ years working in private industry, including with an industrial pipe business owned by his sister. In 1992, he began the second phase of his career, working in public service.
McCullough's time in public service includes a time with the Appalachian Regional Commission of the MDA (1992-1997), 5 years as the mayor of Tupelo (1997-2001), and 6 years on the board of the Tennessee Valley Authority (TVA), appointed in 1999 by President Bill Clinton, and later named chairman of the board by President George W. Bush (1999-2005). After leaving TVA, he had yet a third phase of his career, this time spending 10 years in private business consulting and serving on the board of several corporations.
Then came the call from Governor Phil Bryant, for Glenn McCullough, Jr., to become the executive director of the Mississippi Development Authority.
No matter what topic arises in a conversation with McCullough, he always brings his new position back to one main thought: Helping grow the economy in Mississippi is good for Mississippians. "The ultimate goal is helping Mississippians, and a healthy and growing economy that is providing better jobs is one significant way to achieve that ultimate goal."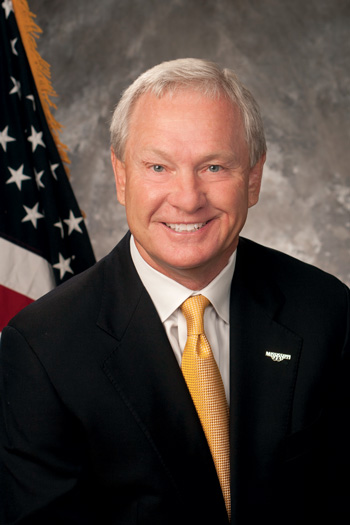 Vision: A Philosophy of Success
When discussing his vision for the MDA, one phrase repeats itself constantly in McCullough's comments: "Winning performance." He wants the department to be as successful as possible, because not only does that help Mississippi businesses, it also helps the people of our state. "When the MDA has a winning performance, then the businesses of our state win, and ultimately the people of Mississippi win."
McCullough feels that we are well positioned in this state; we have a good businesses climate, and he is committed to maintaining the type of atmosphere that attracts and grows businesses. Along with support for industry from the executive and legislative branches, other important elements of a positive business climate include low taxes, reasonable regulation and licensing, low energy costs, and other fiscally conservative practices that businesses prefer.
When asked about his vision for the MDA, how he would like to see the department running during his tenure, McCullough mentions four concrete things he would like to see — achieve excellent performance in economic development, communicate clearly with partners, internal and external departmental accountability, and working better with industry partners to see industry area growth. He hopes to accomplish these goals by finding optimal leadership, developing good teams and partner relationships, and continually raising the performance bar both for himself and those around him.
One of the central ingredients for economic success is finding the right businesses, organizations, and individuals with which to partner. McCullough looks for certain characteristics that help make a good partner for the MDA: "Mississippi is a family as much as a state, and we value relationships on all levels, from government to business to local community. We look for partners who will have a sense of Mississippi as home, who want to give back and reinvest in our home, and in our family."
Speaking of the manufacturing industry specifically, McCullough says "Mississippi makes things. We are proud to be manufacturers, creators. This is the type of place where a project goes from start to finish — plant a tree, care for the tree as it grows, cut it, mill it, make something from it. We're proud to work with our hands and accomplish something real."
The Future: Helping Mississippians Win Economically
One of the first significant steps guided by McCullough to help secure Mississippi's economic future budget is the recent submission of a performance-based budget. The state legislature wanted to see performance-based budgets from the departments, and MDA was the first to put one together. This budget will help legislators and policymakers understand exactly how MDA is using funds to help improve areas like workforce development. Some of the key measurements of performance for the MDA will be a growing economy, a growing GDP, new and better jobs, and more Mississippians employed.
Another area of specific focus for the MDA will be workforce development. They assisted the State Workforce Investment Board in putting together a comprehensive workforce development plan for Mississippi, including more vocational training centers and industry-specific training programs at community colleges. MDA is dedicated to making sure that potential employers know that Mississippi has a willing and able workforce, and if technical or vocational training is needed for certain jobs, Mississippi also has a way to ensure that can happen.
The MDA also has an increasing focus on tourism in Mississippi. We had over 22 million visitors to our state in 2014. These visitors are exposed to our people, our industry, universities, manufacturing, food, and culture. Says McCullough, "People come here with certain ideas in their head, but they leave impressed, stereotypes are smashed, and good things get spread about our great state." The state's tourism department, Visit Mississippi, is a part of the MDA, and they are hard at work getting the word out about Mississippi as a destination spot, using forums ranging from their website, www.visitmississippi.org, to social media to international trade missions, and everything in between.
With the very capable Glenn McCullough, Jr., at the helm, Mississippi is poised to continue her economic growth and development, expand in new areas, and establish a more promising future for all Mississippians. As McCullough repeats regularly, "A strong economy makes for growing businesses which offer people more career opportunities which, in the end, help people lead better lives all over our state. That is the future we are trying to build at the MDA — a better future for Mississippi."